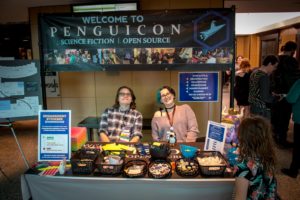 Hi everyone, we hope you had a fantastic holiday season!
In January, things really wind up for Penguicon preparation, so please keep these dates in mind:
We are having a Board Meeting (always open to the public) today, January 12th, at 12pm.  As the weather is poor, we're encouraging people to join us online for a Zoom meeting – if you'd like to attend in person, please contact us at jessica@penguicon.org.
We are hosting our Penguicon "Game of Penguins" party at ConFusion this year on Saturday, Jan 18th in the Leelanaw room of the Sheraton Novi!  If you aren't familiar, ConFusion is a great classic Sci-Fi/Fantasy convention that specializes in author content – you will need to get a membership to join our party, but it is well worth it!
Our next ConCom Meeting (also open to the public) is on January 26th, at 1pm! Don't forget that we follow up our meeting with social time (usually from 3 to 5pm), and you're welcome to attend either or both. If you'd like to attend, email jessica@penguicon.org or join our Facebook event.
Our Maker Market is a unique community vendor market at Penguicon where local artists and creators sell things they've created – not resale goods. The deadline for submissions is February 1st, so it is coming up! If you'd like to join us to share your wares, submit soon!  Our jury will go through submissions and get back to vendors a few weeks after that.
Penguicon is open for event submissions!  Our community-run convention thrives thanks to the many people volunteering their expertise in dozens of topics to the rest of the community – we need your help to make Penguicon amazing once again. We are interested in all kinds of events (including performances, workshops, and unmoderated "birds of a feather") at all skill levels.  If you're not sure if your idea is right for us, submit it and see, or reach out to our Head of Programming, Chelle. Programming Submission closes February 15, 2020.
Every year, Penguicon attendees purchase ribbons to attach to their event badges and to hand out to other attendees. Some people try to collect them all!  It can be great to get ribbons for panels you're presenting, as well. Ribbon purchase requests are open now – please see the Ribbons page for additional details this year, as we're trying some new things. Ribbon orders are due before February 29, 2020 at 11:59:59 PM EDT
Room parties are held by our attendees each year, generally in the hotel's Junior Suites – coveted rooms that fill up quickly.  If you'd like to reserve space for a room party at Penguicon, please let us know ASAP to ensure there is space available for you! Rooms are going quickly!
Attending Penguicon is always more comfortable with a room at the hotel, so you can socialize in the evenings without worrying about driving home.  Our hotel sells out completely with our presence every year – if you'd like a room, please register a room using the online form soon.