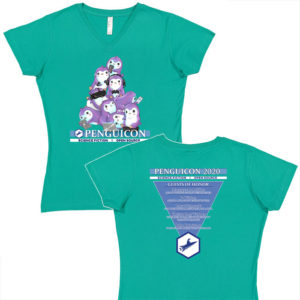 Offworld Designs is ready to offer our Penguicon 2020 shirts for pre-order and pick up at the convention, and we are so proud of them!
The art was created for this year by Crystal Mielcarek – this pile of penguins know the difference between HTML and XHTML, no doubt. Thank you, Crystal!
A similar graphic will be on the cover of our souvenir book!
Shirts are available up to 5x in unisex style and up to 3x in "ladies cut", either are $22.
This year, due to increasing costs and low interest in the cut, LADIES CUT SHIRTS will be PRE-ORDER ONLY.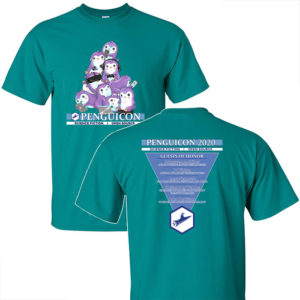 So if you'd like this style of shirt (and if you'd like to see us continue to offer this style of shirt!) please order one ahead of the convention, as there will not be extras in that style.
Pre-order deadline is April 10th.
BONUS: Offworld still has limited amounts of older Penguicon art, such as embroidered hats, totes, and polos, as well as shirts from 2019, 2018, and 2017. These are not pre-order, so feel free to pick some up by searching the Offworld Designs site for Penguicon.