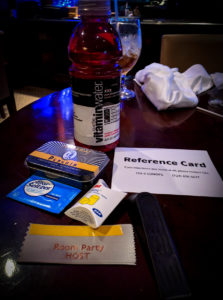 One of the great things about Penguicon is the night life!
Attendees of all varieties host room parties, from small "Stitch and Gabs" to enormous 80's night DJ'd dances, from Dinosaur or Harry Potter themed events to Linux chat rooms, interactive party adventures, and more.
All of the best rooms on the party floors at the Penguicon hotel are reserved for the room parties that ask for them specifically, so if you'd like a Jr Suite in the middle of the action, reserve a room to get your confirmation number and then fill out our special requests form to ensure you get placed in the right area – only certain floors are "noisy" enough to handle the revelry!
Space is limited and we are already filling up with parties, so if you're thinking of bringing your own vision to the night life of Penguicon, let us know ASAP.
We will make sure to promote your event through our official channels, and you might get a swag bag to help you along, as well.
If you have any questions, please email the Room Party Coordinator Kimberly at roomparties@penguicon.org.