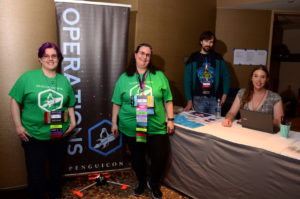 Have you thought about contributing your time and energy to make Penguicon happen?  We are an entirely community-run, all-volunteer event, and would not happen without people like you stepping up to do what they can to make Penguicon awesome.
Staff pays a reduced rate to attend, gets unique swag, is listed in the Souvenir Book, and gets the feeling of being a part of a great team. Here are some positions in which we could use your help!
Signage: The most important part of this job is helping us set up signs and banners at the hotel on Friday morning, but help creating them is also gratefully accepted.

Consuite: We need "Beer trolls" to check IDs in the Consuite as well as general Consuite staff. We are often understaffed here and sometimes have to cut back on services, so please step up and put in an hour or two, it's much appreciated!

Hotel: Our Hotel Liaison would like an Assistant to help coordinate with the Hotel and with attendees during the event.

Accessibility: Our Accessibility team needs staff to help mark out accessibility guides (such as blue tape on the floor or signage). This team helps ensure everyone gets the opportunity to participate fully at Penguicon!

Roving Ops

: We need multiple staff members to travel around the hotel making sure that everything is going well, and to help or direct people when it isn't.  If you'd prefer to volunteer while moving instead of sitting at a desk, this could be the job for you!

Ops: Our Operations team is an essential part of our convention. This amazing group of people manage all of the issues that come up (mundane and not so mundane) during Penguicon. They, too, are often understaffed – every shift you can volunteer for them allows this team a bit more time to also enjoy the convention.

Volunteers: The Volunteer team pulls together the hundreds of hours of on-site volunteering that are the glue that holds Penguicon together as the rest of us try to shake it apart with our brilliant shenanigans. If you like to talk to new people and help others find ways they, too, can contribute to the con, this might be the job for you!
If you'd like to help out in any of these ways, email us at volunteers@penguicon.org mentioning this post, and our Volunteers team will send you in the right direction.