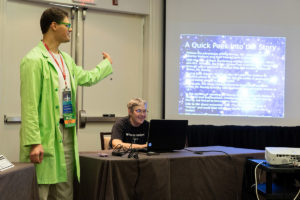 Every year, hundreds of attendees volunteer their expertise in a diversity of subjects to educate and entertain their fellow nerds. This exchange is what makes us a community organization!  This means we need you to submit your ideas and join us at Penguicon to share them.
We are interested in all kinds of events (including performances, workshops, and unmoderated "birds of a feather") at all skill levels.  If you're not sure if your idea is right for us, submit it and see, or reach out to our Head of Programming, Chelle.
Penguicon's many panels and workshops happen each year due to the willingness of our attendees to donate their time and expertise to teach others.
If you're interested in presenting an event, please see our Present an Event page for more details!
Programming Submission closes February 15, 2020.