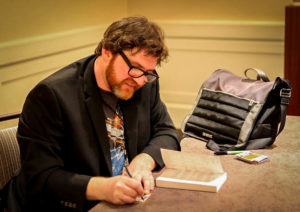 The Writers' Block is a convention-run bookstore devoted to the promotion and sale of books by our Guests of Honor, Featured Guests, and any attending authors who wish to participate, free of charge.
Staff will be on hand to help readers find just the right book. The Writers' Block bookstore is located in the hotel's old gift shop just past the hotel registration desks.
Attend the Writers' Block readings on the third floor, mingle with authors at the Saturday afternoon coffee hour, or drop by office hours in the bookstore to ask authors your burning questions about life, the universe, and publishing. (Be sure to check the schedule for dates and times of all the Writers' Block events!)
Writers' Block hours: 
Friday – TBA (2019: 4pm to 9pm)
Saturday – TBA (2019: 10am to 9pm)
Sunday – TBA (2019: 10am to 1pm)
Participating authors To Be Announced!:
Last Year (2019)'s Participating Authors
Guests of Honor Saladin Ahmed and Zed Shaw
Featured Guest Brigham Vaughan
E.D.E. Bell
Nicole E. Castle
Michael Cieslak
Ophelia Crane
Christine Daigle
Jean Davis
Hank Edwards
Skeeter Enright
C. Flynt
Mary Lynne Gibbs
Lee Gull
Jen Haeger
Merrie Haskell
BluRaven C. Houvener
Ericka Kahler
Paul Kemner
Michael W Lucas
Stefani Manard
Cassandra Morgan / CP Morgan
David Erik Nelson
Colleen Nye
Diana Kathryn Plopa
Nemo Rathwald
Ken Schrader
G. S. Scott
R. G. Thomas 

C.R. Vine
V.K. Walker / Vik Walker
Authors: The Writers' Block is being provided as a 100% free service to authors who attend Penguicon – we will sell your books at retail price (plus sales tax) in order to allow you to enjoy our convention, participate in readings, and get to know our attendees without having to sit at a table. About 1,600 people attend Penguicon every year, so if you've written a book and you'd like to participate, please fill out our Writers' Block application.