If you have an idea for someone you would like to see at Penguicon, please fill out this form!
Guests of Honor are provided travel and lodging expenses, and have a lifetime membership to attend Penguicon.
Featured Guests are presenters of note that we would like to highlight this year, and are provided a free membership for 2020.
---
Guests of Honor
Margret-Ann Miller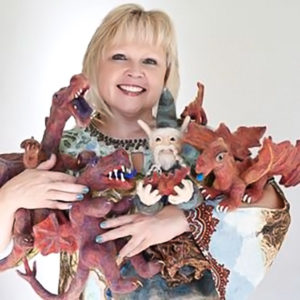 Margret-Ann Miller, a Toledo, Ohio native, started needle felting in 2011 to compliment the quilting techniques she worked on for over twenty years. She started teaching felting classes for a non-profit organization, launched a felting guild, and spearheaded countless demos and hands-on projects for non-profit events.
Her first exhibit was in 2015 with her larger-than-life Smaug the Needle Felted Dragon at ArtPrize 7 in Grand Rapids. She followed that up with a needle felted world based on her children's book Artie the Needle Felting Dragon for ArtPrize 8.
Margret-Ann has her work featured in several international doll and fiber magazines. Her latest needle felted doll, Janis Joplin, will be in New Jersey for the Hunterdon Museum's felt exhibition opening in January 2020.
When she is not felting, Margret-Ann enjoys volunteering for the Assistance Dogs for Achieving Independence organization training puppies to become service dogs for the disabled. She also enjoys her volunteer work for the Ottawa National Wildlife Refuge, where she also completed an artist-in-residence program in July of 2019.
Future goals for Margret-Ann include participating in the artist-in-residence programs for the national parks and refuges across the country.
Jo Walton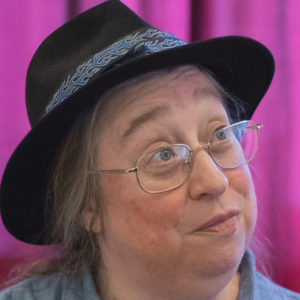 Jo Walton is the author of fourteen SF and fantasy novels, with a fifteenth, Or What You Will, coming in July 2020.
She has also published two non-fiction collections about the history of SF, a short story collection, and three poetry collections.
She won the World Fantasy Award in 2004 with Tooth and Claw, and the Hugo and Nebula in 2012 for Among Others. Her most recent novel is Lent.
She comes from Wales, but lives in Montreal where the food and books are much better.
She plans to live to be ninety-nine and write a book every year.
Larry Nemecek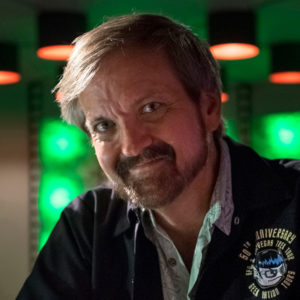 Author, interviewer, host, archivist, producer, voiceover, actor…and fan: Larry Nemecek has a background in news and theatre, but it is "Trekland" where he's worked ever since his bestselling "Next Generation" Companion became a classic. An historian/ pundit for Trek DVDs, host of Roddenberry's THE TREK FILES podcast and a convention guest worldwide, Larry has now launched the pioneering PORTAL 47 deep-dive experience for Trekfolk, taking them where no savvy fan has gone before.
Thousands of new fans worldwide now know him for portraying Dr. McCoy in the first two episodes of award-winning indie web series Star Trek Continues, where he also acted as Creative Consultant—even as he's written his "Fistful of Data" column in the official Star Trek Magazine since 1998. His hit Star Trek: Stellar Cartography maps/book set from Amazon was just updated in 2018.
At "Trekland" HQ, Larry shares even more behind-the-scenes experiences and "canon-keeping" with his Trekland Treks customized day tours of LA-area Trek filming locations, his blog and vidchat guests, and his "Trekland On Speaker" remastered interview CDs that bridge Star Trek old and new—as does his documentary project, the 1982 meltdown-turned-miracle The Con of Wrath now wrapping up.
Christopher Webber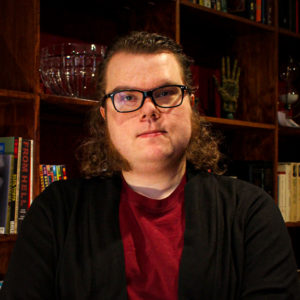 Christopher Lemmer Webber is a long-time user freedom advocate.  They are mostly known for their work co-authoring and co-editing the ActivityPub distributed social network protocol.
In previous times of their life they worked as tech lead at Creative Commons, co-founded MediaGoblin, started and ran the Liberated Pixel Cup, and kicked off the work on CC BY-SA 4.0 and GPL compatibility.
These days their primary work is on Spritely, a project to improve the security of federated social networks and bridge them with virtual worlds.
When they aren't programming, they enjoy cooking, sketching, and making ascii art.
Our other Guests of Honor will be announced very soon!
Featured Guests
To Be Announced!