If you have an idea for someone you would like to see at Penguicon, please fill out this form!
Guests of Honor are provided travel and lodging expenses, and have a lifetime membership to attend Penguicon.
Featured Guests are presenters of note that we would like to highlight this year, and are provided a free membership for 2019.
---
Guests of Honor
Margret-Ann Miller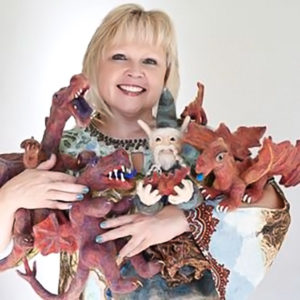 Margret-Ann Miller, a Toledo, Ohio native, started needle felting in 2011 to compliment the quilting techniques she worked on for over twenty years. She started teaching felting classes for a non-profit organization, launched a felting guild, and spearheaded countless demos and hands-on projects for non-profit events.
Her first exhibit was in 2015 with her larger-than-life Smaug the Needle Felted Dragon at ArtPrize 7 in Grand Rapids. She followed that up with a needle felted world based on her children's book Artie the Needle Felting Dragon for ArtPrize 8.
Margret-Ann has her work featured in several international doll and fiber magazines. Her latest needle felted doll, Janis Joplin, will be in New Jersey for the Hunterdon Museum's felt exhibition opening in January 2020.
When she is not felting, Margret-Ann enjoys volunteering for the Assistance Dogs for Achieving
Independence organization training puppies to become service dogs for the disabled. She also enjoys
her volunteer work for the Ottawa National Wildlife Refuge, where she also completed an artist-in-
residence program in July of 2019.
Future goals for Margret-Ann include participating in the artist-in-residence programs for the national
parks and refuges across the country.
Jo Walton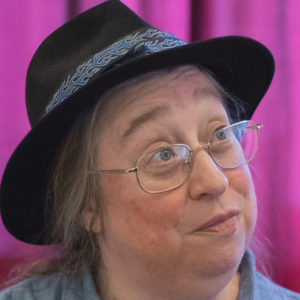 Jo Walton is the author of fourteen SF and fantasy novels, with a fifteenth, Or What You Will, coming in July 2020.
She has also published two non-fiction collections about the history of SF, a short story collection, and three poetry collections.
She won the World Fantasy Award in 2004 with Tooth and Claw, and the Hugo and Nebula in 2012 for Among Others. Her most recent novel is Lent.
She comes from Wales, but lives in Montreal where the food and books are much better.
She plans to live to be ninety-nine and write a book every year.
Our other Guests of Honor will be announced very soon!
Featured Guests
To Be Announced!